In our roles as standards compliance auditors, we travel to all corners of the Earth, and see many great sights, plus some that are much the opposite.
On a recent trip, which took in Washington DC, in a country where ex-presidents seem to have airports or cities named after them – Ronald Reagan International, JFK International, and Washington, I noticed that those in waiting had Tee Shirts with the Presidents' pictures on, I bought some for my daughter and her friends, bearing a picture of the latest – Donald Trump. However I have now seen, from a different President, what can really make America Great again – love and compassion!
While there, I met the husband of an amazing family, he and his wife spent countless money and energy adopting two babies, one boy, one girl. For one reason or another, their parents didn't feel able to cope, and so offered them for adoption. In my opinion these are the luckiest two children around and, despite the expense and hard work, both were lovingly taken in and given a home where they could be cherished and where they remain today, with faces showing how much they are loved and how much love they give back in return.
What a great story of hope this must instil in others, where news reports show death and destruction around the world (some of which I have seen for myself, most notably in Africa, where children have been horrifyingly sacrificed with the use of machetes!).
I have seen both ends of the spectrum, some amazing and some terribly sad, both extremes of how children are treated around the world!
However one of the lasting images in my mind is of husband and wife team Tim and Karen Tingler with their adopted family of Stacy and Charlie. To see their picture, you'd think they had won the lottery, and in many ways I'm sure they all have!
I feel lucky just seeing them in their photos and perhaps, one day, I will meet them all together!
Until then, I salute them all.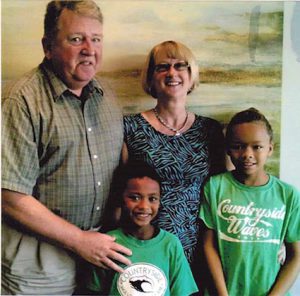 Meet the other President based in Washington DC. and his family:
Mr. Timothy Tingler (President of Quest Knight Enterprises), Mrs. Karen Tingler, Stacy (right), and last but not least, Charlie (centre).
15 March 2018