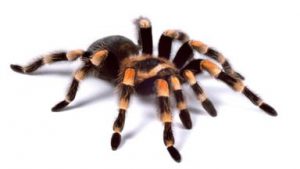 Our head of compliance, Leslie Jones, has recently suffered an injury at the hands of his 14 year old daughter Kimberley, and all in the cause of offering her a much-wanted pet!
She hadn't specified what type of pet so, when she screamed having noticed a spider in the house her father, our head of compliance, told her that it could be her new pet. She screamed and ran away, followed by her father with hands clenched.
Kimberley felt she had a good escape route planned and ran through an open door, slamming it behind her in the process. Sadly, by this time, our head of compliance's foot was part way through the door so that his big toe nail ended in an upright position, disconnected from his big toe.
Now, weeks later, minus 'he feels' half a litre of blood and after several trips to his local medical centre, he is finally on the mend, still minus a big toe nail however, and still making the most of every bit of sympathy he can get. He is, of course, still accepting apologies from his daughter!
The nurses at the local medical centre have done a great job ensuring the rest of the toe stays put, although they have had great difficulty hiding their laughter while treating the toe!
We would like to point out that no spiders or other creatures were injured during this tragedy other than the pride and appearance of our head of compliance, who is still walking around in open toed sandals and a large bandage on his big toe!
We, as a company, are issuing the St. Albans Medical Centre an award for their care and attention, and for not laughing too much!
We would like to thank them all for their professional and caring treatment.
15 June 2018